Landslip-hit A59 could move across the valley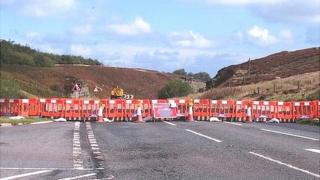 A road prone to landslips could be diverted to the other side of a valley to protect the route.
The A59 between Skipton and Harrogate has a history of landslips above the road to the west of Blubberhouses at Kex Gill.
The most recent landslip in January 2016 led to the road being shut for eight weeks.
When closed a diversion of more than six miles (10km) through towns unsuitable for the traffic is used.
North Yorkshire County Council has strengthened the banks at the side of the road and improved drainage.
However, there remains a high risk of further landslips leading to long-term closures, it said.
The A59 runs for more than 100 miles (160km) between York and Liverpool.
Realigning the road at Kex Gill to the other side of the valley is part of a plan to improve connections between the east coast, Humber estuary ports and Lancashire.
Four possible new routes have been identified with costs estimated between £33m and £40m, said the council.
There is to be a public consultation during September on the best route, it said.