Northallerton prison dig for 'largest' treadmill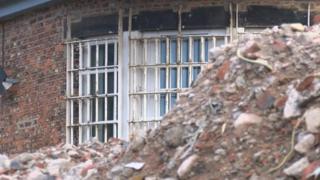 Archaeologists are hoping to find the remains of a treadmill used to punish inmates in a prison.
Northallerton jail, which closed in 2013, is currently being demolished ahead of redevelopment.
Treadmills were introduced in jails in the early 19th Century with inmates forced to walk on them for hours, before they were abolished in 1898.
York Archaeological Trust (YAT) has a month to work at five key locations at the site, which dates from the 1780s.
The 3.5 acre (1.4-hectare) jail site was acquired by Hambleton District Council from the Ministry of Justice in 2014.
Mark Robson, leader of Hambleton District Council, said: "The trust will be looking for evidence of early life at the prison when officers and prisoners all lived in the complex, when bread was baked for the town on site, when it was used as a military prison - and of course when the famous treadmills were used for punishment."
Treadmills were introduced at Northallerton in the 1820s and were abolished with the passing of the Prisons Act of 1898.
---
Treadmills in prisons
Engineer Sir William Cubitt invented the "everlasting staircase" in 1818
It was long cylinder surrounded by steps - as the prisoner put weight on a step it depressed forcing inmates to keep climbing as the cylinder rotated
Designed to occupy prisoners time and teach them the value of work
Larger treadmills would have up to 25 positions
Prisons usually had separate treadmills for men and women
It was often merely used as a punishment with no purpose
The treadmill could also be used to power water pumps or grind corn
Men and women would be expected to walk the treadmill for hours as part of the hard labour element of their sentence
---