Fracking lorries to begin driving to Kirby Misperton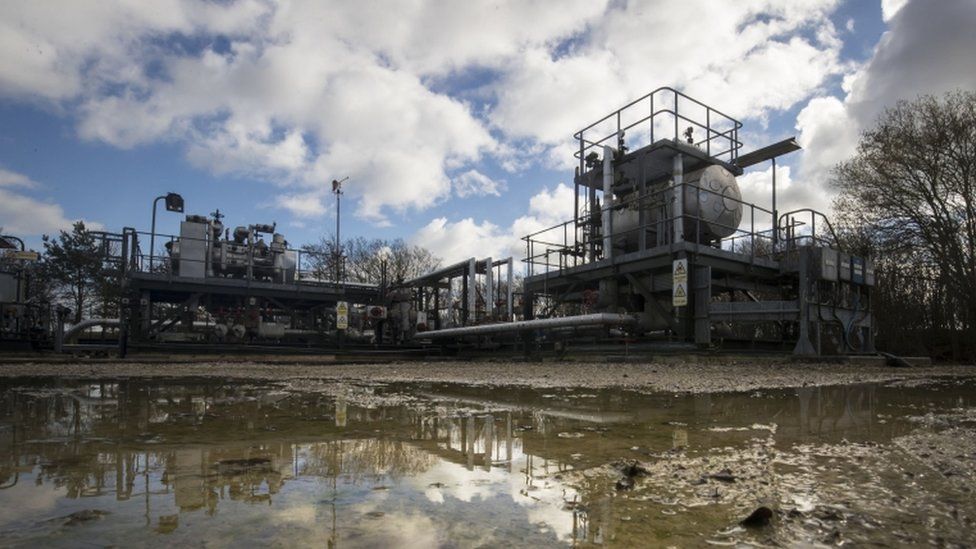 Lorries are to begin moving equipment on to a shale gas fracking site after an access route was agreed by planners.
Third Energy was granted planning permission for the site at Kirby Misperton, between Malton and Pickering in North Yorkshire, in May 2016.
It is due to be the first UK site to carry out the technique since a ban was lifted in 2012, the BBC understands.
Protester Ian Conlan said: "We exist to stop fracking, we will be here every day."
North Yorkshire County Council agreed planning conditions for work to start.
Opponents say it can cause water contamination, earthquakes and noise and traffic pollution.
Mr Conlan, of Frack-Free Ryedale, said: "I'm obviously very upset that we are now facing the prospect of HGVs bearing down on one of our beautiful villages."
North Yorkshire Police said several protesters were moved away from the front of the site earlier after a group caused an obstruction.
No arrests were made, the force confirmed.
Most traffic is expected during the main "hydraulic fracture phase", said Third Energy.
That would see 388 individual vehicle movements between 07:00 and 19:00, at a peak of four journeys per hour, the company said.
It has said traffic could start any time after Wednesday.
All traffic to and from the site is due to arrive via the A169 and will travel along Kirby Misperton Road, through the village, along Main Street and on to Habton Road.
Signs and a temporary 30mph speed limit are to be put in place in Habton Road, said the council.
"The decision does not have a bearing on future applications," it said.
"This is a controversial, sensitive project that continues to attract opposition."
Third Energy has previously said it hoped to begin fracking before the end of the year.
It said the process at its KM8 well, sunk for conventional gas extraction in 2013, would be carried out with minimal impact.
Related Internet Links
The BBC is not responsible for the content of external sites.