University Challenge contestant reported for rape after TV appearance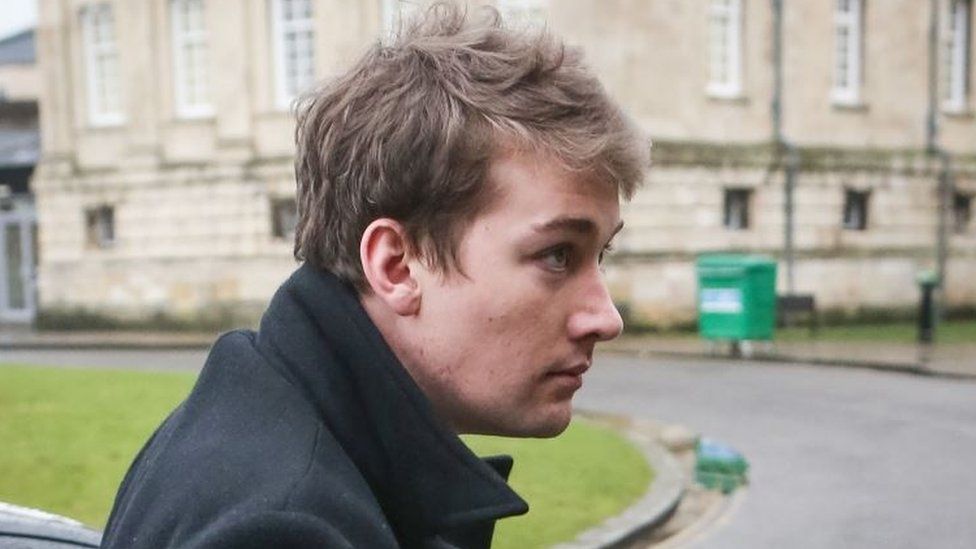 A former University Challenge contestant was reported to police for rape a year after he appeared on the BBC TV quiz show, a court has heard.
Bartholomeo Joly de Lotbiniere, 22, allegedly attacked a 22-year-old fellow student in her University of York halls of residence in 2014.
Bradford Crown Court heard the woman was prompted to report the allegation after his TV appearance in 2015.
Mr Joly de Lotbiniere, from London, denies rape and assault by penetration.
The jury heard she told police Mr Joly de Lotbiniere raped her in her room.
He later sent her text messages saying he did "a very stupid thing" and was sorry, the court heard.
In a filmed police interview played in court, the woman said: "Basically, he was on University Challenge and it was all over social media and certain tweets."
She said she saw a tweet by Pointless host Richard Osman about Mr Joly de Lotbiniere's name and "just got angry and upset".
The pair had been out drinking as part of a group in June 2014 and returned to the halls of residence in the early hours of the morning, the trial heard.
Prosecutor Gerald Hendron said the defendant followed the woman into her room and kissed her before removing her clothes and assaulting her.
Mr Hendron said: "All the while, [the woman] was telling him to stop. She tried to push him off her."
Mr Joly de Lotbiniere then raped her while she continued to try to push him off, the court heard.
The barrister said the defendant told the woman "Pretend this never happened" and "Tell no-one about this" before leaving the room.
She texted the defendant two days later and said: "I thought I'd let you know I wasn't overly comfortable with what happened on Thursday night."
The court heard he replied: "Neither am I.
"I was a disgrace, I did a very stupid thing and I am very sorry for what I did.
"I just hope you can forgive me at some point. I'll try not to act like a bloody 14-year-old again and start acting my age. Sorry."
Following his arrest, Mr Joly de Lotbiniere told police his apologies related to him not being able to get a proper erection during the sex, which he said was consensual, the jury heard.
Related Internet Links
The BBC is not responsible for the content of external sites.