York's Clifford's Tower row rumbles on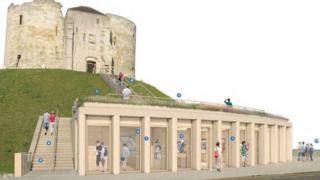 A campaign against plans for a visitor centre at the foot of York's Clifford's Tower has been granted permission for a further appeal.
The City of York Council approved English Heritage's £2m plans for the 13th Century tower site last October.
Permission has been granted to an independent councillor to appeal against a judicial review that found in the council's favour.
Johnny Hayes said: "It's the wrong building in the wrong place."
Campaigners had previously likened the proposed building, unveiled in January 2016, to a "toilet block"
An English Heritage spokesperson added: "We are disappointed with the decision and we await details on the appeal process.
"We remain convinced that a visit to Clifford's Tower falls far short of what this important site deserves."
The plans include a single-storey centre at the foot of the mound on which the tower sits.
The work would reveal part of a long-buried perimeter wall and almost £500,000 would be spent conserving the tower, English Heritage said.
Its research showed few people repeat a tower visit or recommend others to visit, said the charity.
Mr Hayes, who represents Micklegate Ward, said he was not against a visitor centre but said the proposals would do "major harm".
Clifford's Tower is the last remaining part of York Castle and has been a shell since a fire in 1684.
In 1190 it was the site of one of the most notorious incidents in English history, when about 150 Jews died - many taking their own lives - after taking refuge there.
The tower had been besieged by a baying mob and was burned down.
The mound beneath the tower is much older, dating at least to the reign of William the Conqueror, said English Heritage.
Mr Hayes said no date had yet been set for the appeal.