Captain Cook's Endeavour replica to be based in Whitby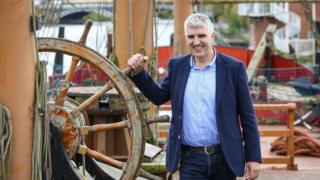 A replica of the ship Captain James Cook used to sail to Australia and New Zealand in the 1760s is to become part of a new tourist attraction in Whitby.
Endeavour, based at Stockton, Teesside, was built as a floating museum for £2.5m in 1993 but was sold in August.
It was acquired by a partnership supported by the North York Moors National Park and is expected to move to Whitby in 2018.
Yorkshire-born Cook began his maritime career in Whitby.
Read more about this and others stories from across Yorkshire
The partnership, led by businessman Andy Fiddler, paid £110,000 for the life-sized replica which is is one of two - the other is on permanent display in Australia.
The ship was not designed to be put to sea and will be transported to Whitby in the New Year.
Its arrival in Whitby will coincide with the 250th anniversary of Cook setting sail on Endeavour to circumnavigate and chart New Zealand and chart the east coast of Australia.
Catriona McLees, from the North York Moors National Park Authority, said: "We're delighted to support the project, particularly with Cook's early years being spent near Roseberry Topping and Great Ayton, before he moved to Staithes and on to Whitby, where his maritime career began."