Kirby Misperton fracking site police costs reach £180,000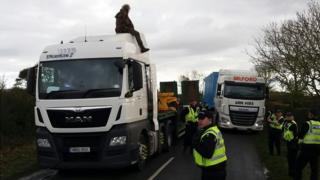 Policing anti-fracking protests at a hydraulic fracturing site in North Yorkshire has cost more than £180,000.
North Yorkshire Police has had a regular presence in Kirby Misperton since May 2016, when Third Energy was given planning permission to operate.
Police and Crime Commissioner (PCC) Julia Mulligan said covering the costs was "likely to have an impact on policing across the county".
In September, when work started at the site, 26 people were arrested.
More on this story and others in North Yorkshire
Two were released with no further action, two were given cautions and 22 have been charged by the force.
Ms Mulligan revealed the additional cost of policing the protests was £80,238 up to 31 August and £101,476 in September.
The costs include overtime payments, equipment fees and travel expenses, but do not include the cost of on-duty officers who are currently assigned to police the site each day.
'Resourcing challenge'
Should costs eventually exceed about £1.4m, 1% of the force's annual policing budget, Ms Mulligan would be entitled to make an application to the Home Office for special grant funding.
The PCC said: "I am seeking reassurance from the government that money from this fund will be available, should it be needed.
"Operation Kingfisher is a significant resourcing challenge, so it is likely to have an impact on policing across the rest of the county, but I know the chief constable is committed to keeping that impact as minimal as possible."
Third Energy has not received final consent to begin fracking, but expects to start before the end of the year.
Fracking is the process of drilling down into the earth before a high-pressure water mixture is directed at rock to release the gas inside.
Opponents say it can cause water contamination, earthquakes and vehicles going to and from the site could lead to noise and traffic pollution.