Kirby Misperton fracking demo police 'heavy-handed'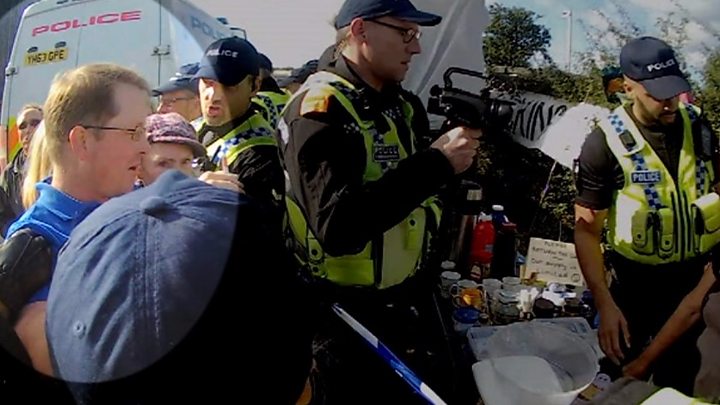 Fracking protesters have criticised "heavy-handed" police behaviour after a video emerged of a campaigner being pulled over by an officer.
North Yorkshire Police has had a regular presence in Kirby Misperton since May 2016, when Third Energy was given planning permission to operate.
Protester Roy Openshaw said: "I was just standing there, suddenly I was finding myself being pulled over."
The force said it had yet to receive a complaint from Mr Openshaw.
More news stories from Yorkshire
The incident happened earlier in the month outside the hydraulic fracturing site.
Mr Openshaw, from Thirsk, said as he was pulled over he was "staring at the sky, then I saw a police officer forcing his way through".
When he was pulled backwards he banged his head on the ground but wasn't arrested. It was the first time he had attended the protest.
"I wasn't expecting that kind of behaviour from the police," he said.
More on this story:
Fellow protester Frank Colenso said police were "being heavy-handed" and the handling of the demonstration was "disproportionate."
He said Third Energy had the right to carry on with their job but "we do want to protest."
A third campaigner, Peter Allen, said he had complained to police about being stopped and having his car searched.
Such behaviour had "permanently soured" relationships with the police, he said.
Policing anti-fracking protests at the site has cost more than £180,000, with more than £100,000 spent during September, it was revealed on Tuesday.
Protesters have picketed the site entrance, climbed on to lorries at the site and on to the drilling rig.
Assistant Chief Constable Phil Cain said any complaint registered with the force would be "investigated fully and if there any lessons to be learnt then we'll endeavour to learn from those".
He added that public safety was "our first priority".
Fracking is the process of drilling down into the earth before a high-pressure water mixture is directed at rock to release the gas inside.
Opponents say it can cause water contamination, earthquakes and vehicles going to and from the site could lead to noise and traffic pollution.
Third Energy has not received final consent to begin fracking, but expects to start before the end of the year.