York Minster to be protected with anti-terror security blocks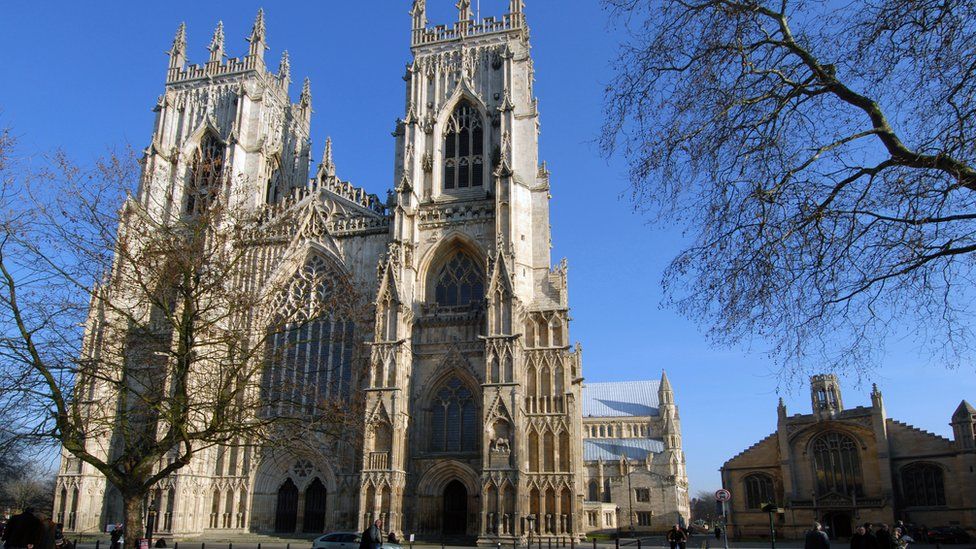 A barrier of 12 security blocks is to be placed in front of York Minster due to the national threat of terrorist attacks.
The decision to strengthen security at the front of the minster was taken by the cathedral's governing body, after advice from the Counter Terrorism Unit.
Work to install the blocks is to start this week, said York Minster.
The Dean of York, the Very Reverend Dr Vivienne Faull said the authorities had to "take urgent and decisive action".
Dr Faull said some experts believed society was "facing a generational problem which may last for 20 or 30 years".
The church had had concerns about security of the Minster's West End for some time, it said.
The current national threat of terrorist attack is severe.
"The clear recommendation from the Counter Terrorism Unit required us to take urgent and decisive action to protect the area," said Dr Faull.
The blocks are approved by the Home Office and new flag stones are to be cut and set around the edges of each block.
No archaeology is to be disturbed by the installation, said the Minster.
The chosen blocks are already in use at a number of locations including the Tower of London, it said.
The barrier is temporary and can be removed if the security situation improves in the future, it added.
The present building was built over about 250 years, between 1220 and 1472 although a large roman building stood on the site and a wooden Anglo-Saxon church was built there by 627.
There are 5 levels of threat:
Low - an attack is unlikely
Moderate - an attack is possible but not likely
Substantial - an attack is a strong possibility
Severe - an attack is highly likely
Critical - an attack is expected imminently.
The level is set by the Joint Terrorism Analysis Centre and the Security Service (MI5)
Related Internet Links
The BBC is not responsible for the content of external sites.