Bettys of Harrogate tells Whitby cafe to drop Fat Rascal name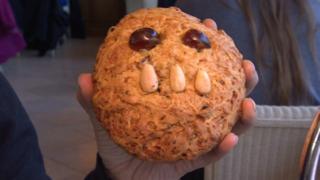 A small cafe in Whitby has had to stop selling fruit scones under the name Fat Rascals after it found itself at the centre of a legal row.
Sandgate Coffee & Delights was forced to rename the product when lawyers for Bettys Tearooms, in Harrogate, said it owned the trademark.
Cafe owner Helen Matos has agreed to the request but believes the recipe predates the registration.
Bettys said it was "important to protect our specialities".
More stories from across Yorkshire
Miss Matos said according to records the first Fat Rascals were baked on peat fires on the outskirts of Whitby in 1855.
"I believe it belongs to Whitby and I think people from this town should be able to sell any item that has history to the town," she said.
"We've called them the Whitby Fatties, but nothing has changed, the recipe is the same, the appearance is the same."
Her partner, former miner Mark Whittaker, who said he had baked the scones with his mother since he was five added: "We didn't think that somebody could actually register a name for a cake."
Bettys said it was "sad we had to disappoint Helen and Mark".
Managing director Simon Eyles said: "When you have something as famous and as unique as our Bettys Fat Rascal there are time when we have got to try and do the right thing and protect what is yours.
"This is not a personal thing and whether it was a big company or a small company we've got to try and do the right thing for our customers and for Bettys."