Hen harrier disappearance in North Yorkshire a 'serious blow'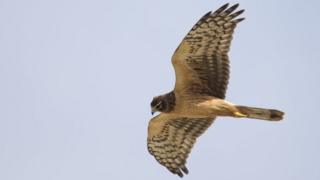 The disappearance of another hen harrier is a "serious blow" to the bird's population, police said.
John, a sub-adult bird, was fitted with a satellite tag in July 2016 by Natural England when he fledged in Northumberland.
His last recorded position was on 1 October in the Threshfield Moor area of North Yorkshire, when the tag stopped transmitting.
Police said no trace of the bird or equipment was found during searches.
Natural England said John's sudden disappearance was "a matter of grave concern".
Hen harriers, along with other birds of prey, are protected by UK law.
'Relentlessly destroyed'
North Yorkshire Police said: "The loss of another juvenile hen harrier brings the total to six within 14 months across northern England - and is a serious blow to the small English hen harrier population.
"Interference with hen harriers is a criminal offence."
Tagging data showed John had been in the Threshfield Moor area last winter and then headed to the Scottish Borders in the spring.
He returned to Yorkshire in September before he went missing.
Sgt Stuart Grainger, of North Yorkshire Police, said: "Those responsible for bird of prey persecution, either directly or indirectly, should be ashamed - these birds belong to everyone and are part of our natural heritage.
"It is a disgrace that these beautiful birds appear to be relentlessly destroyed."
David Butterworth, chief executive of the Yorkshire Dales National Park Authority, said he was "doing all I can to support North Yorkshire Police" and urged anyone with information to contact the police.
According to the RSPB, there are 545 breeding pairs across the UK.