Great East Window at York Minster finally restored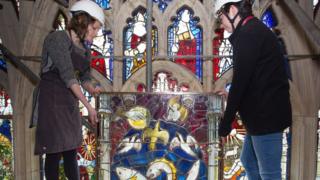 The Great East Window at York Minster has finally been restored after a conservation project that removed more than 300 glass panels over 10 years.
The 600-year-old window is the largest expanse of medieval stained glass in the country, said the minster.
The final panel, of the 311 removed by York Glaziers Trust in the £11m project, was replaced on Tuesday.
The window was originally completed in 1408 by glazier John Thornton who was paid £56 by the Chapter of York.
Work to repair and replace hundreds of stones at the cathedral's East End which houses the window has also taken place.
Sarah Brown, director of the trust, said: "The Great East Window is one of the great artistic achievements of the Middle Ages, a stunning expanse of stained glass of unparalleled size and beauty in Britain.
The work would "ensure this masterpiece is preserved for hundreds of years to come", she added.
The Great East Window depicts the beginning and end of all things from the book of Genesis to the book of Revelation, known in the Middle Ages as the Apocalypse.
The York Minster Fund and the Heritage Lottery Fund are to provide protective glazing to all 128 of the building's medieval stained glass windows.