Historical Bootham Park mental hospital to be sold off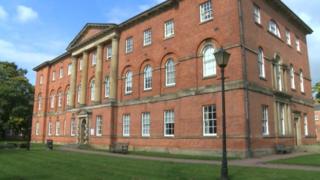 A former psychiatric hospital, closed because of patient safety concerns, has been put up for sale to raise money for reinvestment in the NHS.
Bootham Park Hospital was shut in 2015 after the Care Quality Commission (CQC) said it was no longer fit for purpose.
Outpatient clinics were still being held at the 18th Century hospital, but were moved to new premises in October.
The NHS said it would work with Natural England to ensure any listed contents remained with the property.
More stories from across Yorkshire
The main hospital building dates from 1777 and is Grade I-listed, while the 7.2 hectare site also includes a number of Grade II-listed buildings and features.
The property includes former estate cottages, a gate lodge, outbuildings and open parkland.
David Elstob, principal transaction manager, said: "We know this historic site is important to people in York and we are working closely with heritage specialists and local organisations."
He added: "Proceeds from the sale will be reinvested in the NHS."
NHS bosses in York had said options for refurbishing or replacing the hospital buildings had been dismissed because they would not "provide the high quality facilities to care for patients".
A new 72-bed mental health hospital replacement is due to open at a site off Haxby Road in York by December 2019, York Clinical Commissioning Group said.