Whitby's East Pier footbridge to be rebuilt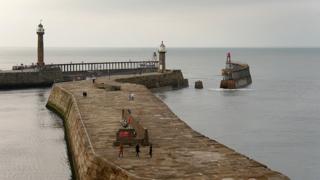 A footbridge linking Whitby's East Pier to an extension is to be replaced 17 years after it was first removed.
Scarborough Council has given consent for a new bridge between the extension and the Grade II-listed pier.
The original footbridge was removed in 2001 because of damage caused by the sea. A similar bridge on the West Pier has survived.
Historic England supported the plans but said the design should be agreed with a conservation officer.
David Walker, head of planning at the council, said: "The piers play a number of vital roles in respect of Whitby's functions as a port and its historic identity.
"They help protect the town and harbour as coastal defences and in defining the entrance to the harbour, the setting of the town and Whitby Conservation Area."
Whitby's East and West Piers enclose the mouth of the River Esk where it flows into the North Sea.
They were built in the 18th Century from sandstone, while the extensions and footbridges were built in the early 20th Century.
The footbridge allowed harbour staff easy access to maintain the navigation beacon at the end of the eastern extension.
Since it was removed staff have had to use a boat and ladders to access it.
The new footbridge will be 26m (85ft) in length, with a wooden walkway and steel frame.