Phantom Thread filmed at Robin Hood's Bay hotel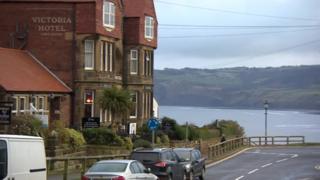 A North Yorkshire landmark hotel has had a starring role in what could be Sir Daniel Day-Lewis's final film.
The Victoria Hotel, high above Robin Hood's Bay, is one of the locations featured in the Oscar-nominated Phantom Thread.
The film, set in the fashion world of the 1950s, stars Sir Daniel and Lesley Manville and is on cinema release.
Some of the hotel's staff were also used as extras during the filming, which took place last year.
Oscar-winning actor Sir Daniel, who starred in Gangs of New York and The Last of the Mohicans, announced his retirement in June.
He holds both British and Irish citizenship and won three best actor Academy Awards for roles in My Left Foot, There Will Be Blood and Lincoln.
Phantom Thread's Oscar nominations include best picture, best director and best supporting actress for Lesley Manville.
Robin Hood's Bay is a small village near Whitby, in the North York Moors National Park, and is popular with visitors.
Amy Parkin, who works in the bar at the hotel, said appearing alongside Sir Daniel as an extra was "a horrendous feeling".
"He has so much power about him and it makes you all fall to pieces", she said.
Beverley Rutherford, the manager, added: "It was just a massive undertaking."
The film's production involved re-wallpapering, painting, replacing the windows, replacing the lights and taking radiators off the walls to produce a period look.
Duty manager Megan Tindall also took part as an extra and wore a 1950s costume.
"I want to see (the film) to see what we were part of.
"We don't know the rest of what goes on, to see it all fit together and where we fit in will be really good," she said.