Family of drowned man in York river safety campaign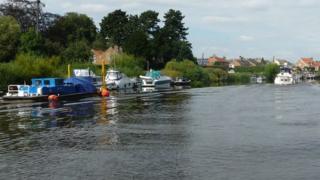 The family of a man who died after falling into the River Ouse in York has issued a stark warning to people on nights out to keep away from rivers.
Craig Batters' body was found in the water on New Year's Day 2017 about four miles south of the city centre.
There have been concerns about the number of drownings in York in recent years, with an awareness campaign trying to prevent any further deaths.
Andrea Benson, his sister, said people should think twice before jumping in.
Read more on this story and others in North Yorkshire
She told BBC Radio York: "It's funny while you're on the edge of the river, bantering with your friends, it will be funny while you're flying through the air.
"It might even be funny when you hit the water and take your first involuntary gulp due to the shock of the cold of the water.
"But it will stop when you realise your clothes are getting heavier, the blood has rushed from your limbs to your central core and your arms and legs don't work."
She added: "It won't be funny when you realise you can't swim to the edge and you go under the water."
Mrs Benson still doesn't know the full circumstances of how her 42-year-old brother ended up in the river and wants to stop other families having to deal with the same questions.
"I have to drive over the river every day, and it's crippling, it's a constant reminder," she said.
York St John University Students' Union is taking part in the latest 'Don't Drink And Drown' campaign, which was set up by drowning prevention charity the Royal Life Saving Society UK.
Tips shared to students include staying in a group on a night out, taking a taxi home, staying well clear of riverside routes and drinking responsibly.