Milk tanker overturns on North Yorkshire road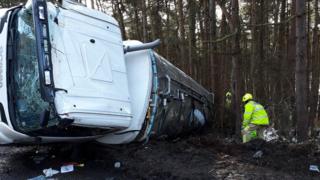 A tanker carrying 11,000 litres of milk overturned on a road in North Yorkshire, forcing a six-hour closure.
It happened on the B6451 between Otley and Harrogate at about 13:00 GMT.
North Yorkshire Fire and Rescue Service said the firm which owned the tanker sent out an empty one to transfer 9,000 litres of the milk.
Sgt Paul Cording, of North Yorkshire Police, said the driver suffered minor head injuries and was being treated in hospital.
The remainder of the milk was pumped into "inflatable dams" resembling a paddling pool to prevent it escaping.
The strangest spillages on our roads
Sgt Cording said: "I think the cows will be working overtime to make up for this."
The road reopened at about 19:00 GMT after the tanker had been removed.
Milk can pose a risk to wildlife if it gets into a water course.