York security concerns prompt traffic access review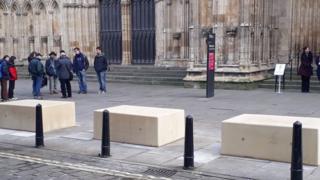 Further traffic restrictions in York are to be examined in order to protect people from a possible terrorist attack.
The city council has approved a report calling for a full review of traffic access points to the city centre and York's racecourse.
Barriers were placed in front of York Minster and on certain streets in 2017 but the city has been advised by police that further measures are needed.
Improvements could cost more than £1m.
York receives over seven million visitors a year and councillor Ian Gillies, executive member for transport, said keeping people safe was vital.
He admitted the review could affect both disabled access and deliveries to shops and businesses.
"All those things will be taken into account but above all keeping the city safe is the main thing," he said.
The council's report also points out the city has a number of pedestrian streets but vehicle access is still possible and current restrictions rely on people's willingness to obey the law.
It said North Yorkshire Police had asked for a review of the council's Traffic Regulation Orders to prevent all vehicles from accessing busy pedestrian areas.
The force has also said physical measures, such as barriers or bollards, should be reviewed to ensure compliance in restricted areas.
Supt Lindsey Robson said the threat level for the whole of the UK from international terrorism remained at 'severe' and the force continued to take appropriate steps to protect the public.
She added: "The safety of those who live, work and visit York is our main priority."