Silpho Moor 'UFO bits' found in Science Museum archive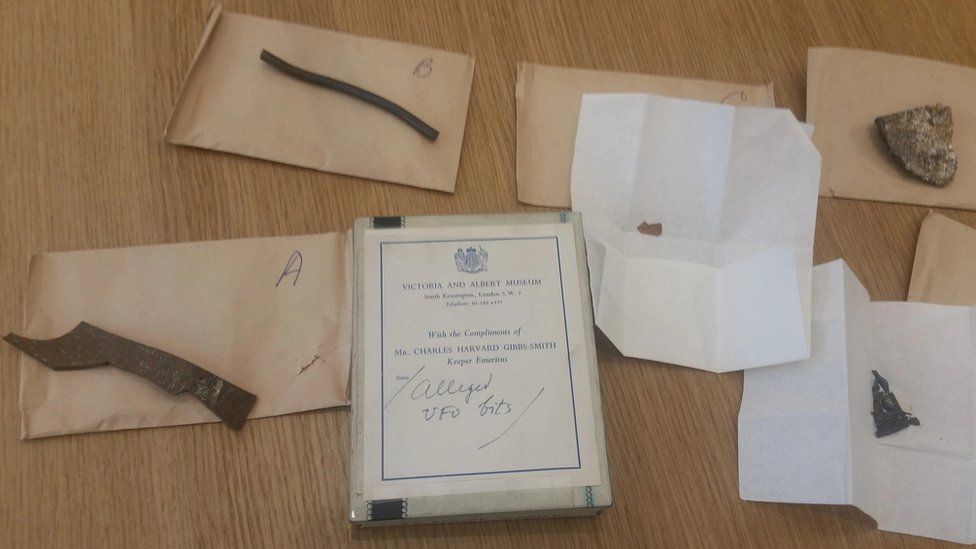 Fragments of a mysterious object dubbed "Britain's answer to Roswell" have been unearthed after being hidden away for decades in a Science Museum archive.
In 1957, newspapers reported a small "copper-bottomed flying saucer" being found on Silpho Moor near Scarborough.
Despite tests finding the object was likely to be terrestrial in origin, the unusual item sparked wide intrigue.
Shards held in the archives have been re-examined after archivists were told of their "cultural significance".
Dr David Clarke, a journalism lecturer at Sheffield Hallam University, was invited to study the fragments after giving a talk about the Ministry of Defence's UFO files at the London museum.
Speaking to the BBC, he said the metal object was originally found by three men on moorland weeks after Russia's first Sputnik satellite was launched.
Reports at the time suggested the 18in metallic saucer contained thin copper sheets engraved with unintelligible hieroglyphics.
"It was tinkered with and sliced into tiny pieces to be examined by various people," he said.
Doubts about its authenticity were quick to emerge, with tests at the Natural History Museum and the University of Manchester finding it was likely to be an "elaborate hoax".
Despite this, Dr Clarke said, the object created an urban legend, provoking many conspiracy theories.
While at a recent conference about the National Archives, Dr Clarke was told about "alleged UFO bits" lying in a cigarette tin in the museum's collection.
'Massive cultural history'
Khalil Thirlaway, an exhibition developer who showed Dr Clarke the fragments, said: "I had been looking at three or four large folders connected to aviation historian Charles Harvard Gibbs-Smith, who was also a UFO enthusiast, and found these items.
"There's a good chance they are from Silpho Moor, as they correlate to the contemporary descriptions of the find."
Dr Clarke said: "He opened the tin box and took out the pieces, it was an amazing revelation - it had just been sitting there for half a century.
"There must be a lot of it still out there, sitting in someone's attic, or maybe these are the last remaining pieces."
He added: "I thought it was a prank, but the question remains - who went to all that trouble at great expense and what did they gain from it?
"It has been described several times as Britain's answer to Roswell, and I don't think that's too great an exaggeration."
Mr Thirlaway said: "We didn't know there was this massive cultural history behind it, it really brought the items to life for us.
"There's a chance they may go on display as we're now aware of their cultural significance."
Related Internet Links
The BBC is not responsible for the content of external sites.