'Unbreakable' bed transforms life for disabled York woman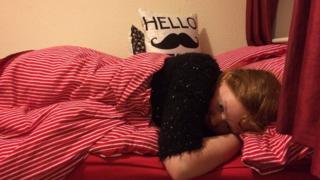 An unbreakable bed has proved life-changing for a 20-year-old with severe learning disabilities and behavioural issues.
Ruby Merritt, from York, has broken three beds due to her condition which involves her bouncing on a bed and rocking backwards and forwards.
This put her previous beds under continued pressure and led to the bed frame joints crumbling.
A specially adapted tough bed has been provided by the charity Children Today.
It is effectively unbreakable because it has not bolts or joints.
Lena Merritt, Ruby's mother, said her daughter, who has attention deficit hyperactivity disorder and autism spectrum disorder, would shake the whole bed constantly.
"She would bang her feet against the bed as well which would make a huge amount of noise and mean that it would take her quite a while to settle down at night," she said.
Mrs Merritt first saw a tough or unbreakable bed at a respite care home her daughter visits but said the £800 cost of the made-to-order beds was too expensive.
She contacted Children Today, a charity which provides children and young people with disabilities with specialised equipment.
"This bed means we now have so much more peace of mind that Ruby can't hurt herself if she tries to break it as there is nothing on it that can fall apart," she said.
Mrs Merritt said her daughter and the whole family are able to sleep better and Ruby is attending a specialist college for young people with disabilities and is "blossoming".
"The support we received from Children Today has really changed not just Ruby's but all our lives for the better," she said.