Kirby Misperton fracking: Police protest costs fall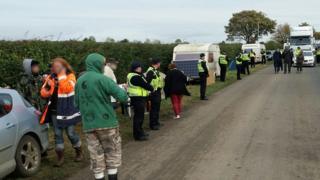 The cost of policing anti-fracking protests at a site in North Yorkshire has fallen to its lowest level in six months.
The county's Police and Crime Commissioner (PCC) said £48,101 was spent policing the Kirby Misperton operation in January.
Julia Mulligan said it was a 17% fall on the figure for December 2017.
She said it was to be expected as the company wanting to frack at the site has still not been given the go-ahead.
"Costs were down again in January, which is to be expected while Third Energy's activity has been put on hold," she said.
"I will continue to keep a close eye on this operation and the cost to the North Yorkshire taxpayer, and will soon be making an application to government to recover as much of our costs as possible."
The costs include overtime payments, mutual aid and the expense of bringing officers in from other forces, but do not include payments for officers who police the site each day.
Third Energy was granted local planning permission to frack an existing well at Kirkby Misperton in 2016.
It began moving equipment on site in September 2017 in anticipation of final approval from the government.
However, in January the Business Secretary Greg Clark said he wanted financial checks made on the company before making a final decision.
The company has since removed some equipment to allow its contractors to deploy it elsewhere, which was welcomed by protestors.
Policing costs at Kirby Misperton
£80,238 up to 31 August 2017
£101,476 in September 2017
£233,704 in October 2017
£147,881 in November 2017
£58,488 in December 2017
£48,101 in January 2018
Source: Police and Crime Commissioner for North Yorkshire