Daleswoman Hannah Hauxwell's funeral held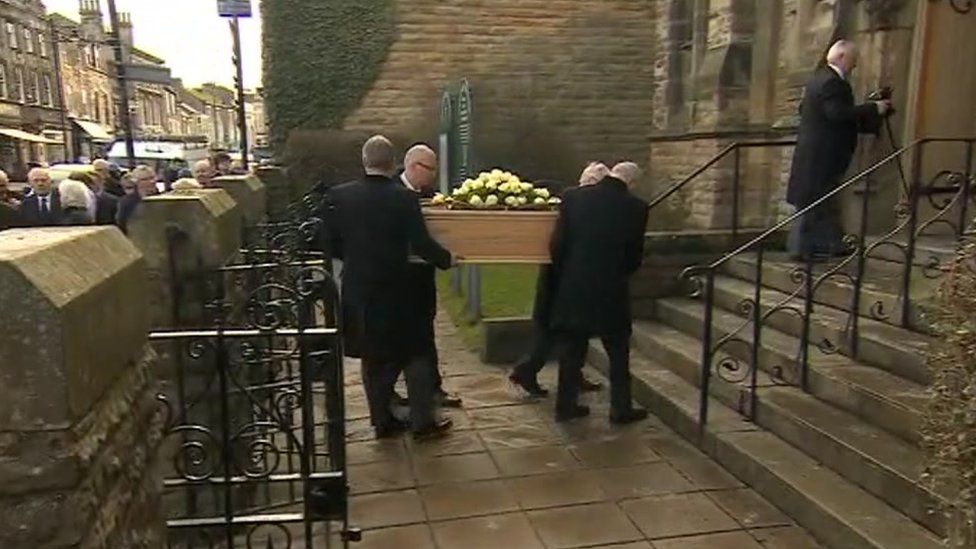 The funeral has taken place for a woman whose tough life as a farmer in the Yorkshire Dales featured in a series of television programmes.
Hannah Hauxwell found fame in the 1970s as the programmes showed her difficult and remote life in Baldersdale, near Barnard Castle.
She died aged 91 at a nursing home in West Auckland, County Durham, in January.
The service took place at Barnard Castle Methodist Church.
It was in 1973 when Yorkshire Television's documentary Too Long A Winter introduced Hannah.
Viewers saw her struggle to run the 80-acre Low Birk Hatt farm after the death of her parents, and attempting to survive on less than £200 per year.
The Reverend Beverley Hollings, who took the service, said: "People just admired her for her determination for keeping going in those conditions."
Ms Hauxwell went on to feature in a number of further programmes but eventually left her farm in the 1980s.
The fields around the farm were turned into a wildflower meadow, known as Hannah's Meadow.
Rev Hollings said she had been ahead of her time.
"As far as ecology and so on were concerned the meadow that is still there in her memory has all those wildflowers because she did not put pesticides on and so on."
Ms Hauxwell later lived in the nearby village of Cotherstone but moved to a care home in Barnard Castle in 2016 and then to the nursing home where she died.