Steam engine Tornado trapped on North Yorkshire Moors Railway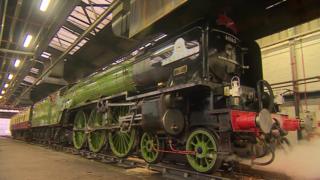 A historic steam locomotive is to be moved by road after it became trapped on a railway line following damage to a bridge.
Tornado was unable to leave the North Yorkshire Moors Railway after a bin lorry hit a bridge at Castleton Moor on Monday.
The locomotive will now be moved by low-loader on Wednesday.
It is due to attend an event at the Severn Valley Railway in Shropshire on Friday.
More on this and other North Yorkshire stories
Network Rail said all services on the line had been suspended, with a replacement bus service operating between Middlesbrough and Battersby.
A spokesman added: "It is not known how long repairs will take".
British Transport Police said nobody was hurt in the incident.
The £3m locomotive is owned by a trust and was built by a group of rail enthusiasts in Darlington and Doncaster over a 18-year period.
When it entered service in 2008 it was the first steam engine to be built in Britain since the 1960s.