Aldi worker murder: Judge orders destruction of murder CCTV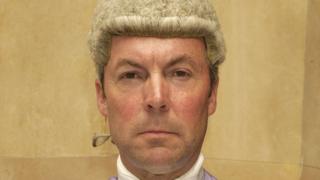 CCTV footage depicting the murder of an Aldi worker by her mother's ex is so shocking it should be destroyed, a judge has said.
Neville Hord's frenzied knife attack on Jodie Willsher was captured by in-store cameras at the supermarket in Skipton.
Judge Jonathan Durham Hall said the footage was "extremely distressing" and all copies - except one held by police - should be destroyed.
It should be shielded from the public, he said.
Hord, 44, was jailed for at least 30 years for killing Ms Willsher.
Judge Durham Hall said he did not want the video to fall into the hands of "those who take pleasure in such sadistic things".
The judge also urged other judges not to consider reducing Hord's sentence without first watching the CCTV.
More stories from across Yorkshire
Ms Willsher was attacked in a busy branch of Aldi supermarket in Skipton, in North Yorkshire, four days before Christmas.
A large number of shoppers, including children, witnessed the attack.
Bradford Crown Court heard that a number of witnesses who tried to intervene have been treated as victims themselves by police and offered specialist support.
Judge Durham Hall said all copies of the CCTV, apart from one held by North Yorkshire Police, have been destroyed.
He ordered that this final copy should never be released to the public and praised Aldi for destroying the original hard drive.
Speaking outside court, Det Ch Insp Mark Pearson said: "This incident had a very significant impact upon members of the public who were going about their Christmas shopping that day, as well as on Jodie's colleagues in the supermarket.
"I pay tribute to the people who have assisted the police investigation by providing witness statements, and especially those who bravely went to Jodie's aide in an attempt to stop the attack and save Jodie's life.
"Both Jodie's family and the people who witnessed this traumatic incident have been provided with the necessary support.
"However, if anyone feels they are struggling to cope, they are urged to seek help from Supporting Victims."