Ampleforth Abbey: Interim manager drafted in at 'abuse' college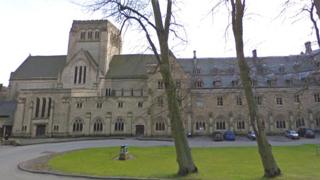 An interim manager has been drafted in at a Roman Catholic school amid concerns at how quickly it is dealing with allegations of sexual abuse.
The Charity Commission opened an inquiry into the charities which run Ampleforth Abbey and Ampleforth College in North Yorkshire in 2016.
The investigation into safeguarding followed media reports of alleged sexual abuse linked to the college.
Ampleforth Abbey said the appointment was a "precautionary measure".
More news from around Yorkshire
The commission has made an order under The Charities Act to appoint Emma Moody.
Ms Moody, from law firm Womble Bond Dickinson, will be the interim manager of both charities and will have all the powers and duties of a trustee over safeguarding-related matters.
The charities - Ampleforth Abbey and the St Laurence Education Trust - are being investigated over their trustees' approach to safeguarding and their handling of the allegations of abuse.
'Safe environment'
Harvey Grenville, head of investigations and enforcement at the Charity Commission, said: "It is of paramount importance that beneficiaries, and others who come into contact with charities, are protected from harm.
"We are not satisfied that the trustees of these charities have made enough progress in improving the safeguarding environment for pupils in the schools connected to the charities.
"For this reason, we have appointed an interim manager to expedite changes in the safeguarding arrangements at the schools."
In a statement Ampleforth Abbey said: "Emma and her team are in place to support and guide the trustees and to provide strategic leadership on matters relating to safeguarding, ensuring the charities have the proper framework they require to deliver their missions safely and appropriately."
It added it would mean "importantly that all our beneficiaries are able to flourish and thrive, reaching their full potential, in a safe environment and protected from harm."