North Yorkshire Moors Railway withdraws WW2 German soldier invitation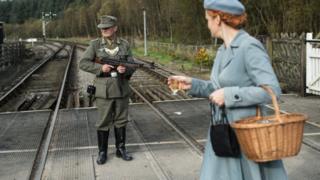 A railway involved in a World War Two re-enactment weekend has withdrawn its invitation to a group who dress as German soldiers.
The North Yorkshire Moors Railway said it was in response to negative publicity in the press last year.
The charity said it was a "very difficult decision" but it needed to protect its family image.
Neil Robertson, from the Das Reich group said the press had exercised "power without responsibility".
For the past 12 years, the railway station at Levisham, near Pickering, has been turned into 'Le Visham', a German-occupied town in northern France, as part of a larger war-themed weekend event, which also involves Allied forces, in October.
But the charity said it had been forced to withdraw the invitation due to "national media articles negatively portraying Levisham's German wartime re-enactment in 2017".
"As a public charity we cannot ignore the media's portrayal, and so it is with considerable regret the unanimous decision was that the invitation to the re-enactment group, who have provided loyal support at Levisham for many years, would be withdrawn," a statement read.
Mr Robertson, who has designed scenarios each year with the aim of educating the public, said he was saddened by the announcement.
He said some elements of the press were allowed to exercise "power without responsibility" in their coverage of the 2017 event, which had led to the charity reaching its decision.
He strongly denied re-enactors sympathised with any Nazi cause.
"Both the re-enactment community and the station volunteers are saddened by the board's decision, but respect it," he added.