North Yorkshire Moors Railway plans new WW2 scenario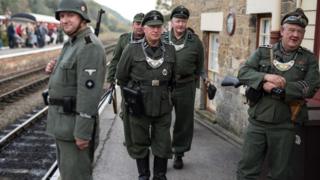 A heritage railway line that barred a group who dress as German soldiers for its annual World War 2 re-enactment says it is working on a new scenario.
The North Yorkshire Moors Railway said the decision not to include the Das Reich group came in response to negative publicity in the press.
The charity, which stressed the group was used to educate the public, said it needed to protect its family image.
It is due shortly to announce what the new scenario will be.
Over the three-day Railway in Wartime event, which takes place in October, four North Yorkshire stations are transformed to create a variety of wartime scenarios.
For the past 12 years, the railway station at Levisham, near Pickering, has been turned into 'Le Visham', a German-occupied town in northern France.
But the charity said it had been forced to withdraw the invitation for this year because of "national media articles negatively portraying" the event in 2017.
It said it was now working "hard behind the scenes to create a new scenario for Levisham".
Neil Robertson, from the Das Reich group, previously said some elements of the press were allowed to exercise "power without responsibility" in their coverage of the 2017 event, which led to the charity reaching its decision.
He said the scenarios used were aimed at educating the public and were not intended to cause offence.
The group, which said it has had no issues with other venues, said it was looking at the possibility of attending an alternative event.
Scenarios due to take place at the charity's other stations in Pickering, Goathland and Grosmont include a Home Guard demonstration, RAF displays and a wartime street.