Man jailed for crashing car into a house in York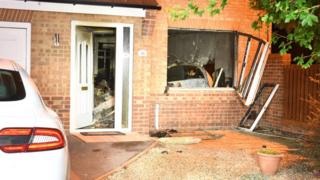 A driver who crashed his car into a house has been jailed for five years.
James Sparham's Volkswagen Golf burst into flames after he drove it into the house in Rawcliffe, York, in September.
A man who was sitting on a sofa in the lounge had to be rescued from the blaze by his wife, police said.
Sparham, 29, of Geldof Road in Huntington, York, pleaded guilty at York Crown Court to three counts of causing serious injury by dangerous driving and one of criminal damage.
Read more about this story and others from across Yorkshire
Three people in the house, including a child, managed to escape with help of neighbours.
David Garnett, 54, who was sitting on the sofa had to be rescued by his wife Claire, their family said in a statement released by police.
"Claire climbed over the burning car and cleared rubble off David then climbed back over it having to carry and pull David over the burning car all the while terrified it would explode."
The statement added: "Claire fortunately rescued David to the rear of their home whilst the car set alight in their lounge setting fire to the house and its contents all of which have been lost."
Mr Garnett spent six weeks in hospital and "suffered serious life-changing injuries", including loss of vision in his right eye, extreme lower limb injuries requiring extensive skin grafts and a broken nose.
Sparham's two passengers, a woman in her 30s and a man in his 20s, were also injured.
North Yorkshire Police said witnesses had heard "screeching" and then saw the car being driven in a dangerous manner before the crash.
The collision was recreated in order to examine whether there had been any faults with the car or Sparham had taken action to avoid the crash.
Experts concluded the car was in good order and no evasive action had been taken.
Det Sgt Jeremy Bartley said: "The choices Sparham made that night have had a catastrophic impact on innocent people.
"The damage he did was not just to a family's home, but also to their health and their wellbeing - damage which continues to this day."
He said the complex investigation showed the crash was entirely avoidable and was an "act of stupidity that had dire consequences".
Sparham was also given a seven and a half year driving ban and will have have to sit an extended driving test.