Northallerton school gun plot accused 'is caring'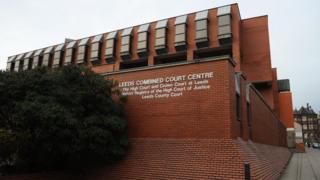 One of the teenagers accused of plotting a Columbine-style massacre at a school has been described in court as "shy" and "caring".
Two 15-year-old boys are on trial at Leeds Crown Court accused of plotting to murder pupils and teachers in Northallerton, North Yorkshire.
Neither of the accused will appear in the witness box to give evidence in person, the trial was told.
The pair deny conspiracy to murder over the alleged plot.
Prosecutors claim the defendants, who were both 14 at the time of the alleged offences, had hero-worshipped Eric Harris and Dylan Klebold, the teenagers who died after killing 12 students and a teacher at Columbine High School in Colorado in 1999.
Richard Pratt QC, defending the older of the boys, gave a series of agreed facts.
The court heard the terms "Columbine", "genocide" and "massacre" were never used and "shoot" was mentioned just once in more than 1,500 text messages between the defendants.
Prosecutors previously claimed the older boy had expressed a desire to become a "natural born killer", a reference to a 1994 film in which a character murdered her parents before going on a killing spree.
Instagram messages
Jurors were told the same defendant had never used the terms "natural born killer" or "NBK" during text conversations with his co-accused.
It was claimed in 3,531 Instagram messages between the older boy and his former girlfriend "Columbine" had only been used, in passing, twice.
Tom Price QC, defending the younger boy, read out character references describing him as "shy", "intelligent" and "caring".
The teenagers also deny encouraging or assisting an offence, and assisting or encouraging an offence believing it would be committed.
The older boy has also pleaded not guilty to aggravated wounding, and a charge of unlawfully wounding his former girlfriend by using a knife to carve his name into her lower back.
The trial continues.