Boys, 15, guilty of Columbine-style school shooting plot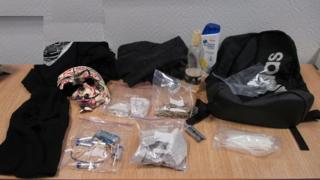 Two teenage boys have been found guilty of plotting a Columbine-style shooting at a school in North Yorkshire.
The two boys, both 15, planned to shoot and kill pupils and teachers at the school in Northallerton.
A jury heard they were motivated by their "hero worship" of Eric Harris and Dylan Klebold, who killed 13 people and themselves at Columbine High School in Colorado in 1999.
The boys, who were 14 at the time, were found guilty of conspiracy to murder.
More stories from across Yorkshire
The teenagers sat motionless alongside their tearful mothers as the verdicts were delivered.
The older of the two boys was also convicted of unlawful wounding after jurors heard he carved his name into his girlfriend's back, but cleared of a count of aggravated burglary.
During a trial at Leeds Crown Court lasting three weeks the jury heard the boys had become "fascinated" with Harris and Klebold, which was the catalyst for their deadly plot.
"They intended to shoot and kill other pupils and teachers against whom they held a grievance," prosecutor Paul Greaney QC said.
"They also, like their heroes, intended to deploy explosives and researched bombing-making techniques to that end."
He said petrol and a bag of screws were found in an abandoned shack used as a hideout by the older boy, and they both downloaded a bomb-making manual from the internet.
The jury was also shown a conversation between the boys from May 2017, in which one told the other: "I can't be bothered anymore."
His accomplice replied: "Why not take some others out as well?" and added: "If you're gonna kill yourself, shoot up the school."
The older defendant was also said to have kept a "kill list" underneath his bed and a diary in which he discussed his motivations for wanting to carry out an attack.
The court heard he described his then girlfriend as "his Dylan Klebold" and encouraged her to give him access to her father's shotguns.
The plot was uncovered when the younger boy told a schoolgirl via Snapchat they were planning to carry out a shooting.
When she asked if he was joking, he responded: "No. No one innocent will die. We promise."
He later told a teacher he needed to "eliminate" people at the school as they were "infecting the gene pool".
Neither boy gave evidence during the trial.
'Interest in violence'
The judge, Mrs Justice Cheema-Grubb, adjourned the sentencing to a later date.
Det Supt Martin Snowden, head of Counter Terrorism Policing North East, said the boys had shown a "very real interest in violence" and a "desire to act out their fascinations".
He said: "Disturbingly, they had gone beyond the fantasy and had begun to take very real steps towards making it a reality.
"Whatever their motivation, the intent of the defendants and the direction of their actions, placed others at risk.
"Thankfully, we'll never know if they'd have followed through with their plan."