York Minster School air rifles: Parents support teachers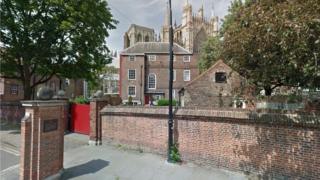 Parents have called for the return of three teachers who were suspended after "unsecured" air rifles were discovered at a private school in York.
Three rifles were found at The Minister School, prompting staff suspensions until the outcome of an investigation.
A statement issued on behalf of dozens of parents said they had been "reassured children were at no point at actual risk of harm".
It added they had "voiced overwhelming support for the suspended teachers".
The North Yorkshire school is a fee-paying preparatory school for 180 day pupils aged between three and 13.
The statement from parents was released at a meeting on Tuesday with the Chapter of York, the school's governing body which suspended the teachers.
Vicky Selby-Jerrold, whose two children go the school, said some 100 parents had attended the meeting and agreed the statement that said: "Parents voiced overwhelming support for the suspended teachers and pressed for the prompt return of all three members of staff after the half term break.
"The meeting ended on a positive note with parents declaring their pride in and overwhelming support for the school."
The school campus is close to York Minster on Deansgate and was originally founded for the education of choristers.
Its choristers, who still lead worship at the minster, currently number about 40 children.