Review over handling of Northallerton school gun plot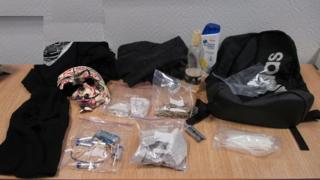 A review is under way to look at the work of agencies involved in a case which saw two teenagers plan a Columbine-style massacre at a school.
The boys, both 15, planned to shoot and kill pupils and teachers at the school in Northallerton in North Yorkshire.
The pair, who were 14 when they mounted the plot, were found guilty of conspiracy to murder.
A Learning Lessons Review is being carried out by North Yorkshire Safeguarding Children Board executive.
Read more stories from across Yorkshire
During the trial, jurors were told the boys were motivated by their "hero worship" of Eric Harris and Dylan Klebold, who killed 13 people and themselves at Columbine High School in Colorado in 1999.
Petrol and a bag of screws were found in an abandoned shack and both boys had downloaded a bomb-making manual from the internet.
The plot was uncovered when the younger boy told a schoolgirl via Snapchat they were planning to carry out a shooting.
When she asked if he was joking, he responded: "No. No one innocent will die. We promise."
He later told a teacher he needed to "eliminate" people at the school as they were "infecting the gene pool".
North Yorkshire County Council said the review would "involve a review of how the multi-agency arrangements worked prior to and during the case and will consider areas for development".