Riders get stuck on Flamingo Land rollercoaster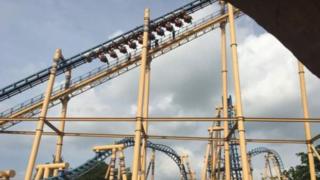 About 20 riders became stuck on a rollercoaster at Flamingo Land when it stopped while going up an ascent.
The Kumali rollercoaster at the theme park, near Malton, North Yorkshire had suffered "a minor mechanical issue".
In a statement, Flamingo Land said the ride "stopped a short distance up the initial ascent, in accordance with its safety systems".
At 18:00 BST, it said customers were being safely rescued from the ride by "experienced engineers".
The rollercoaster stopped at about 17:00, according to witnesses.
Hundreds of people caught up in the terror attack at Manchester Arena were given free tickets to the theme park on Saturday.