English Heritage drop York's Clifford's Tower plan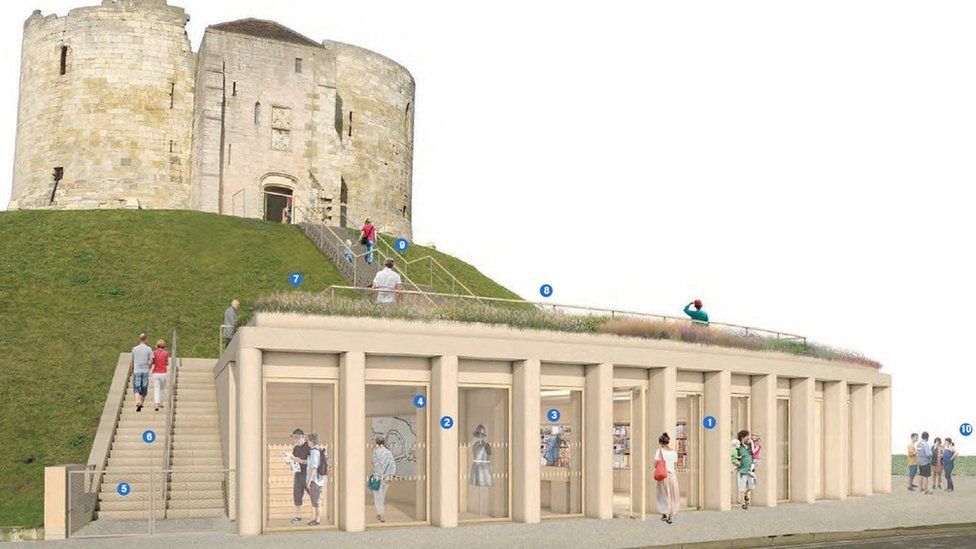 Controversial plans for a visitor centre at the foot of York's Clifford's Tower have been abandoned.
English Heritage said it had chosen to scrap the development due to public opposition and a recently announced £30m city centre development plan.
The proposed single-storey visitor centre was described by objectors as reminiscent of a "toilet block".
English Heritage said "something still has to be done" to improve visitors' experiences at the tower.
She added there was a "deep emotional attachment" to the mound and that "the thought of changing it - even slightly and even with the very best intentions - was too much for many".
"But the fact remains that although people love the tower, a visit is far from ideal - there is an ugly shop in the centre of the tower and little interpretation to tell its fascinating story," she said.
"We therefore remain committed to doing justice to Clifford's Tower and we will work with our partners and the public to get it right."
Plans for the proposed £2m visitor centre were approved in 2016.
A judicial review of the decision was held in 2017, amid claims it was "deeply flawed", but the application was rejected.
The stone tower was built in the 1250s replacing an earlier wooden structure
It sits on top of a castle mound created by William the Conqueror in 1068
It was the site of a major attack on the city's Jewish community in 1190
The stone tower was reduced to a shell by a fire in the 1680s
It is the only remaining structure of the city's castle. Most of the buildings were destroyed in the 18th and 19th Centuries when the city's court and prison were built
The tower was surrounded by the Victorian prison until the 1920s
Councillor Johnny Hayes, who launched the legal challenge, said he was "stunned, delighted and relieved".
He said: "I think we've had a lucky escape and I am so pleased that English Heritage have thought again."
Related Internet Links
The BBC is not responsible for the content of external sites.