Robin Hood's Bay festival drops RNLI over 'porn' sackings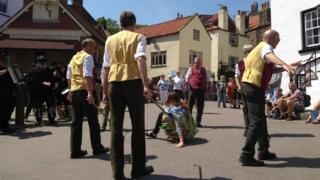 Organisers of a folk festival have withdrawn support for the RNLI after two lifeboat volunteers were sacked for "making pornographic images".
In May Joe Winspear and Ben Laws were suspended for producing graphic sexual images of colleagues on mugs, which they said was "a light-hearted joke".
The pair failed in a bid to appeal the decision last week.
Jim Foster, an organiser of the Robin Hood's Bay Folk Weekend, said the men had been treated unfairly.
He said the step was taken to withdraw support for the Whitby RNLI - which serves the area - after "an outcry by most of the singers and musicians" involved.
"They feel the crewmen involved have not been treated with the dignity and respect they deserve as volunteers, and that the draconian management style adopted by the RNLI has resulted in massive damage to the charity and its supporters," Mr Foster said.
The festival - held earlier this month - is now looking to support another charity in 2019, he added.
Posting a response on social media, Mr Winspear said the mugs were meant as "a light-hearted joke between the crew".
"I feel the punishment doesn't reflect the situation," he said.
In a statement, the RNLI defended its decision.
It said one Whitby volunteer produced graphic sexual images "which went far beyond banter" of a crew member without their knowledge.
"The other produced a hardcore pornographic image of a fellow crew member on a mug," the charity said.
It said the mug image was "so graphic no newspaper would be able to print it without breaking the law".
Social media posts hitting out at the charity have also been posted from the Whitby RNLI Twitter account.
According to the Whitby Gazette, the RNLI said the posts were made by people who were no longer part of the charity.