WWII bomb taken to York shop sparks alert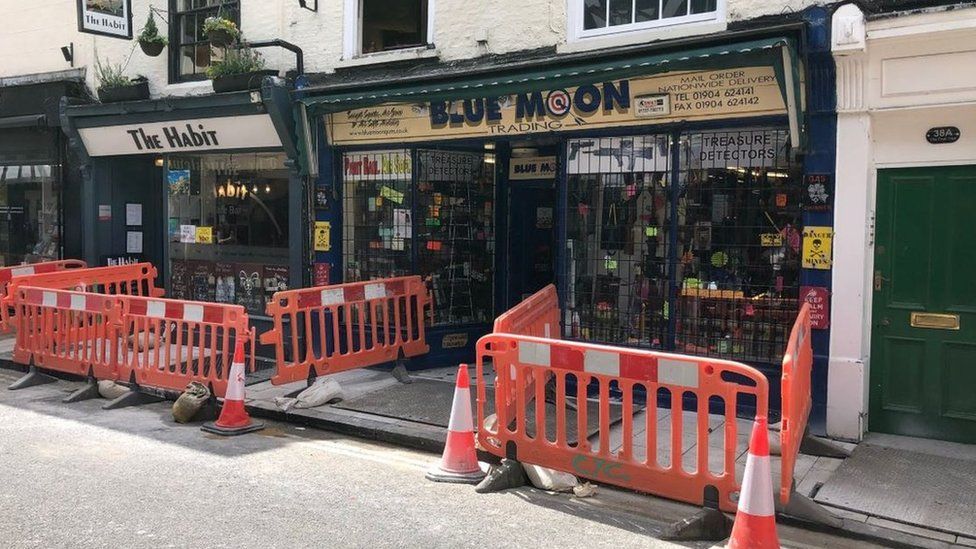 Bomb disposal experts were called to a shop and part of York city centre shut off after a man walked in offering to sell a World War II explosive device.
The Blue Moon Trading gun shop in Goodramgate and nearby properties were evacuated earlier after the shop's owner called emergency services.
Shop owner Stuart Sykes said he initially thought it was a "wind-up" and paid £5 to the unknown seller.
He said the man then "disappeared as fast as he could".
Mr Sykes said: "The saga has gone on for two-and a half hours unfortunately.
"A youngish man came into the shop this morning and simply asked me 'do you buy bombs'?
"I couldn't believe the question, and I thought it was a wind-up so I said, 'not every day but I'll buy it, where is it?'.
"He opened his jacket, slammed it on the counter and it was definitely World War II with the firing pin in the top.
"I said, 'how much do you want for it?'. I thought it was a wind-up so I offered him a fiver and he said, 'take it'."
Mr Sykes said the seller then "disappeared as fast as he could".
He added: "Heavens knows if he's got any more."
Mr Sykes said he rang the police but added: "I certainly didn't expect two-and-a-half hours of bomb disposal."
North Yorkshire Police said the army bomb disposal team took the device away for a controlled explosion, and the cordon was lifted at 13:00 BST.
It said there was no threat to the "wider public".
Related Internet Links
The BBC is not responsible for the content of external sites.