Dozens of geese shot and dumped in River Ure at Wensleydale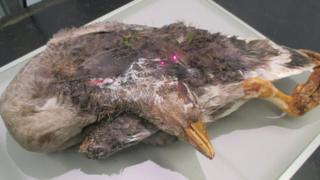 About 25 geese have been shot and dumped in a river in the Yorkshire Dales, police have said.
Walkers found the dead adult and juvenile geese in the River Ure, Wensleydale, last Saturday.
The Greylag geese were found in the river near Harper Wath footbridge on the path between Aysgarth, and Worton.
With so many dead birds it was thought it could have been a wildlife poisoning but they had been hit by shotgun pellets, North Yorkshire Police said.
PC Julian Sutcliffe, wildlife crime officer for Wensleydale and Swaledale, said: "Greylag geese can often be seen in the Dales meadows and rivers at this time of year."
It is an offence under the Game Act 1831 and the Wildlife and Countryside Act 1981 to take or kill these birds during the closed season, which runs from 1 February to 31 August.
Police are appealing for information how the birds were shot and apparently dumped in the river.