Colburn school exam results annulled after inquiry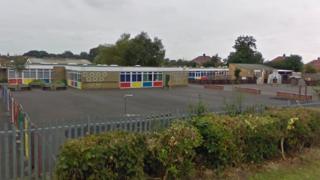 Exam results at a North Yorkshire primary school have been thrown out due to "maladministration".
Year six pupils at Colburn Community Primary School had part of their Key Stage 2 Sats results annulled after a local authority investigation.
The inquiry, which led to the writing assessments being thrown out, was carried out after concerns were raised by the Standards and Testing Agency.
Staff will continue to be investigated, North Yorkshire County Council said.
It said the exams were annulled as a result of "maladministration", and that it was now working with local secondary schools "to ensure that accurate and fair assessments of writing will take place".
The remainder of the Colburn school's Key Stage 2 tests and assessments have not been affected, the council added.
Angie Dale, chairwoman of governors at the school, said: "As governors we will work with the county council to ensure that no child is disadvantaged by this annulment.
"We understand how upsetting this must be for parents at the school but they must be reassured that their children's education and transition to secondary school will not in any way be adversely affected."