Ex-UKIP councillor jailed for £46k theft from pensioner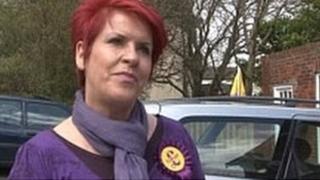 A former UKIP councillor has been jailed for stealing £46,000 from a vulnerable man in his 90s after she befriended him in the street.
Stephanie Todd, 57, caused suspicion by trying to change Philip Wall's will to become the main beneficiary.
The solicitors that held power of attorney over Mr Wall became suspicious when she tried to switch legal firms.
At Teesside Crown Court, Todd, of Catterick Garrison, North Yorkshire, was sentenced to two and a half years.
Yorkshire breaking news: Iron Age settlement found under roundabout, part of canal closed to save water
In a statement made to police shortly before he died in February, Mr Wall, of Richmond, North Yorkshire, said: "I am 98 and the fact someone has stolen from me has marred the final years of my life."
Judge Stephen Ashurst said Mr Wall was a modest, independent man whose late wife made him promise to leave his money to a cat charity that helped them.
Todd and Mr Wall had a chance meeting in August 2013 and she befriended him, swiftly taking over the role of cleaner and helping to look after him.
Shaun Dryden, prosecuting, said: "Essentially she tried to help him following that accidental meeting.
"What becomes clear, in a very short space of time, is that this defendant made every effort to rearrange Mr Wall's financial affairs."
The court heard Todd used his bank card and siphoned off more than £46,000 from his bank account over three years, withdrawing up to £300 a time.
Judge Ashurst continued: "You were a forceful woman who exploited that position to exert influence on a very old man."
Todd, of Shute Road, had her sentencing delayed after she had a stroke shortly before the jury convicted her of theft in December, and now uses a walking frame.
She stood as a UKIP candidate in the 2015 General Election, having defected from the Tories in 2013, and was a councillor on Richmondshire District Council.
Simon Perkins, defending, said her client was "remorseful" and accepted she had "thrown away 57 years of good character".