UK heatwave: Lightning cancels James Arthur gig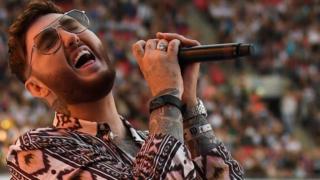 Lightning strikes have forced singer James Arthur to cancel an open-air gig in Scarborough.
The former X Factor winner was due to perform at the Scarborough Open Air Theatre on Thursday.
In a tweet, he said he was "gutted and so sorry" the promoters and the council had "decided it's not safe for the show to go ahead".
Promoters Cuffe and Taylor apologised citing "adverse weather conditions" and said "safety must come first".
Arthur, 30, said the show would be rescheduled and offered fans a refund.
One fan, Mike Roberts, replied to Arthur saying him and his girlfriend had spent more than £100 on train fares and accommodation costs to get to the gig.
Another fan tweeted the star to say the rain in Scarborough had stopped and asked if there was a "chance of this being [put] back on?".
But replying to Mr Healy, Arthur said it was "dangerous to do a show with all the lightning".
In a statement, the promoters said: "Due to the adverse weather conditions, and the continued lightning strikes in the Scarborough area, this evening's performance with James Arthur is unable to proceed.
"We extend our sincerest apologies to everyone who has come to the show, but safety must come first.
"We are investigating the possibility of rescheduling the show and will post an update as soon as possible."
The Redcar-born singer signed with Simon Cowell's label Syco after he won the X Factor in 2012, but was dropped two years later after a series of inappropriate Twitter rants.
He is scheduled to play in Norfolk at Outside Live on Friday.