Convicted fraudster jailed for York flood victims con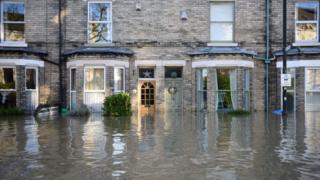 A convicted bank fraudster turned property developer conned flood victims out of £50,000 after failing to carry out repair work, a court heard.
Owen Danter, 40, had been employed to restore two properties in Huntington Road, York, which had been badly damaged by floods in December 2015.
He took money from the owners but work was not completed and the homes left inhabitable, York Crown Court heard.
He was jailed for two years after admitting 12 charges of unfair trading.
Danter, of Munstead Way, Welton, Brough in East Yorkshire, was previously jailed in 2012 for stealing thousands of pounds from customers' accounts when employed as a bank manager.
York Council's trading standards said in this case, Danter was employed in June 2016 to carry out repair works at both addresses and some additional building work.
For one of the properties, he issued nine invoices totalling more than £35,000 and for the other, four invoices with work totalling £14,483.
Despite giving completion dates of November and December 2016, the work had not been finished by February last year.
That month he left the properties for good, claiming he had suffered a exhaustion and a breakdown.
Councillor Nigel Ayre, executive member for trading standards, said: "Deliberately taking people's money and not carrying out the work would have a significant impact on most people.
"But to knowingly inflict that on residents who were in a vulnerable situation following the 2015 floods is far worse."