Cottingley Fairies photographs to be auctioned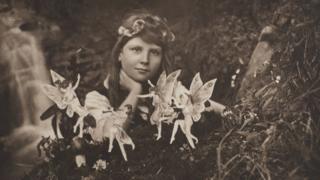 The famous faked Cottingley Fairies photographs are to be sold at auction.
Pictures of dancing pixies were taken in 1917 by 16-year-old Elsie Wright and her nine-year-old cousin Frances Griffiths, in the village of Cottingley, near Bingley in Yorkshire.
The hoax fooled many people including Sherlock Holmes author Sir Arthur Conan Doyle.
Auctioneers expect the two images to fetch over £2,000 when they are sold next month.
The girls borrowed Elsie's father's camera, and used coloured paper cut-outs and hat pins to stage their scenes near the stream at the end of Elsie's garden.
They first showed Frances with four dancing fairies and two months later photographed Elsie seated with a one-foot tall dancing gnome.
In 1919, Elsie's mother Polly Wright took prints of the two photographs to show members of the Theosophical Society in Bradford where they were giving a lecture on fairy life.
From there things spiralled out of control, first through the enthusiastic belief of leading society member Edward Gardner, who used photography expert Harold Snelling to produce photographic prints of them to be sold at Gardner's theosophical lectures in 1920.
The pictures found their way to keen spiritualist Conan Doyle who was writing a magazine story on fairy life.
Following the publication of Conan Doyle's article, a great public controversy raged with leading scientists and writers voicing their opinions in support of and against the truthfulness of the photographs.
Auctioneer and photography specialist Chris Albury said the photographs were likely printed for sale at lectures advocating spiritualism.
"While there was a lot of scepticism in the authenticity of the photographs at the time," he said.
"The story never went away and Elsie and Frances only confessed that the photographs had been faked in 1983, Frances even then maintaining the fifth photograph was genuine and that she believed in fairies."
The photographs will be sold by Dominic Winter Auctioneers in Cirencester, Gloucestershire on 4 October.