Drax: Explosion response drill takes place at power station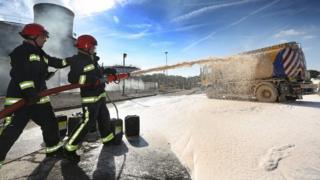 A tanker explosion has been staged at the UK's largest power station to test emergency crews' responses to a serious incident.
About 100 emergency service staff from across Yorkshire took part in the drill at Drax power station, near Selby, North Yorkshire on Saturday morning.
It tested how crews dealt with different types of fires and the actions of search and rescue teams.
Organisers called it the "biggest exercise of its kind" in the region.
The power station operated as normal during the drill, with about 40 members of Drax staff also taking part.
Fire crews from North, West and East Yorkshire were involved, along with an ambulance service hazardous response team and the Environment Agency.
Andy Koss, chief executive officer of Drax Power, said: "Creating this complex scenario in a live industrial setting should make it more realistic for everyone involved so they get the most out of it.
"As the operator of the UK's biggest power station we want to do everything we can to reduce the likelihood of emergency incidents happening, as well as minimising their impact should the worst happen."