Beaver experiment 'to combat flooding' in North Yorkshire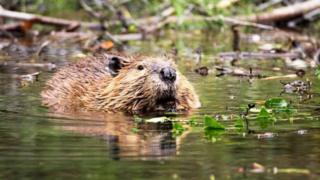 A family of beavers looks set to be moved into an enclosed area of the North York Moors to see if they can help prevent floods.
The Forestry Commission project in Cropton Forest will be monitored with drones to see if the beavers' activity could help store and slow the water.
It is hoped the beavers, from Scotland or Norway, will build dams, cutting floods in the Pickering area.
A North York Moors park authority member said it was "an excellent idea".
Forestry officials hope the beavers will complement the Slowing the Flow project, which has used natural flood management techniques to hold back large volumes of water during flood events.
More stories across Yorkshire here
The activity of the beavers and their impact on habitat will be monitored using drones, which will record the topographical and vegetation changes on an annual basis, says the Local Democracy Reporting Service. Water quality monitoring will also take place.
A meeting of the North York Moors National Park Authority heard the trial would feature up to eight beavers, including an adult breeding pair, in a 16-hectare enclosure with a 1.2m-high post and wire fence in the Sutherland Beck Valley.
After members raised concerns over beavers finding ways out and highlighted mink-related ecological damage, they were told potential escape routes such as ditches, culverts and drains would be blocked.
Following the meeting, authority member and chairman of York and North Yorkshire Flood Protection Committee David Jeffels described the project as "an excellent idea".
He said: "Seeing these little chaps working away in the watercourses of North Yorkshire is going to be a really exciting prospect."