B&M York fire: Manager 'warned about risk'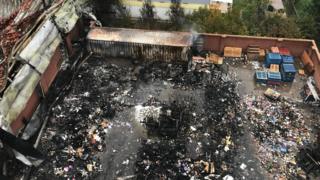 Discount retailer B&M was warned one of its branches was a "fire risk" weeks before it was destroyed in a blaze, a former manager has claimed.
Shoppers fled as flames broke out in a storage yard behind the store at Clifton Moor retail park, York.
A former area manager told the BBC he had emailed senior staff to warn them about a build-up of combustible material in the yard.
A B&M spokesperson did not wish to comment on the claim.
'Accident waiting to happen'
The ex-employee, who did not wish to be identified, said: "It could have been catastrophic - peak trade on a Saturday afternoon, busiest quarter of the trading year, it's so lucky no-one was injured.
"It's been an accident waiting to happen, and it did happen, and I'm absolutely disgusted."
In the email, sent on 18 August and seen by the BBC, the man said the store "doesn't seem to be on anyone's radar" in the company.
He wrote: "They have tens and tens of unworked pallets of stock sat outside in the loading bay open to the elements and the same again of waste pallets which in itself is a major health and safety issue and fire risk."
Speaking to the BBC website, the ex-employee claimed an image of the fire's aftermath shows a significant backlog of combustible material in the yard waiting to be cleared.
The ex-employee claims he had seen photo evidence of "weeks of uncollected waste and pallets just building up" shortly before he sent the warning in the August email.
"I'm not really surprised [about the fire], it's been dangerous for the past two or three years and getting worse," he added.
North Yorkshire Fire and Rescue Service was called to the store at about 16:30 BST on Saturday.
On Wednesday, a fire service spokesperson said: "Fire investigations are continuing but at this stage we don't believe it to be suspicious."
Following the fire, McDonald's issued an apology after firefighters tackling the blaze were denied free refreshments at a nearby branch.
They are said to have asked if the restaurant could provide free drinks, on account of crews not carrying cash while attending a call-out, but were refused.
Two members of the public stepped in and paid for the drinks when none were provided.