Staithes fossil collector rescued following mudslide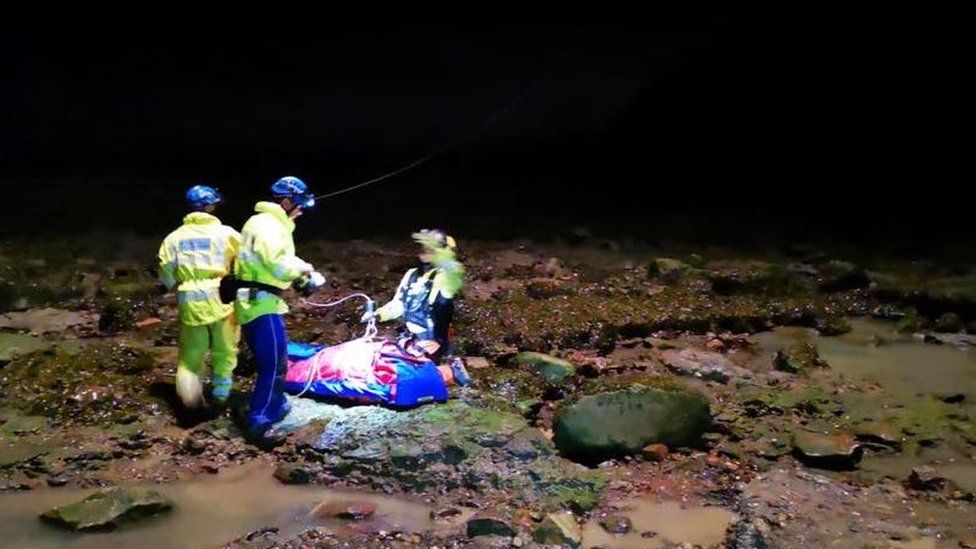 A fossil collector had to be rescued after becoming trapped up to his waist in mud following a landslide.
Fishermen called emergency services at about 20:15 BST on Saturday after spotting the man trapped near Staithes.
Staithes Coastguard said the fishermen had helped free the man from the mud and debris by the time they arrived.
He was taken by helicopter to James Cook University Hospital in Middlesbrough.
The coastguard said it had been an "extremely challenging rescue" and appealed for people not to risk their lives collecting fossils from cliff faces that are "prone to land slips."
A spokesperson said when the team arrived at Port Mulgrave the man had been freed and moved to safety.
"Due to weather conditions, extremely challenging terrain, and the extent of the casualty's injuries, we requested further assistance from Whitby Coastguard rescue team and Humberside Coastguard rescue helicopter," the Staithes Coastguard said.
Paramedics from Yorkshire Ambulance Service also helped treat the man until he was taken by helicopter to hospital.
Staithes Coastguard said: "Well done and thank you to everyone involved in this challenging rescue, including Yorkshire Ambulance Service, all Coastguard team members, North Yorkshire Police and Fire Service, and special thanks to the fishermen for assisting with the rescue and raising the alarm."
The coastguard added: "Thankfully this was a successful rescue, but please do not risk injuries or worse for the sake of collecting fossils."
Related Internet Links
The BBC is not responsible for the content of external sites.