'Oh, and we got rid of Christmas', school tells pupils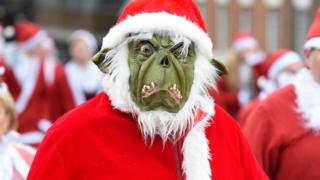 A school has said it will ban Christmas unless pupils can argue a case for it being allowed.
Lady Lumley's School in Pickering, North Yorkshire, has told pupils it plans to ban all Christmas activities.
Pupils were told they must write to their RE teacher to argue their case for the baubles to be put back on the tree.
"No cards, no parties, no gifts and no Christmas tree", RE teacher Chris Paul told pupils.
"Christmas is a day celebrating the birth of Jesus and should be a time of good will to all, yet it can be a very stressful, expensive, argumentative and lonely time.
"[It] has been buried under an avalanche of commercialisation," she said.
The teacher challenged pupils to consider the true meaning of Christmas and come up with answers to persuade her to change her mind.
The secondary school confirmed the decision in a newsletter with the line: "Oh, and we got rid of Christmas".
Some have criticised the move.
One parent said her children were upset about not being allowed to send cards.
"It's gone too far," she wrote.
Others were more supportive.
It is not the first time Christmas has been cancelled.
In 1645 the Puritans, locked in civil war with King Charles I, condemned Christmas as contrary to scripture.
Celebrating Christmas could see you locked up.
Others have been criticised for pulling the plug on Christmas.
In 2016, Boston in Lincolnshire was branded the town Christmas forgot after "a dismal light display" in the town.
Students have until 30 November to state their case, "and then, just maybe, if the arguments are good enough, we might see fairy lights in Lady Lumley's once more", Mrs Paul added.