Services in West Yorkshire mark Stalin-era Ukraine famine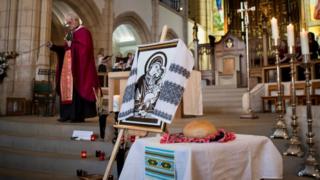 Ukrainians in West Yorkshire joined remembrance services for the millions of people who starved to death in a famine that many label a genocide.
Entire villages were wiped out during Ukraine's Stalin-era Holodomor, or "death by hunger" between 1932-33.
Klaudia Semianiv, who lives in Bradford, said the pain from losing her three sisters and father was still raw.
Commemorations took place across Yorkshire including a service at St Anne's Catholic Church in Leeds.
Every year on the fourth Saturday of November, Ukrainians hold a Holodomor Remembrance Day. This year marks the 85th anniversary.
Bohdan Dygan, 69, whose family are from Ukraine, said more than 100 people, including the Leeds and Bradford mayors, joined the service in Leeds.
"It was a very moving service and the turnout was exceptional. The church was packed from the front to the back.
"Although I did not have family who suffered, I have friends whose relatives were killed."
Historians say Soviet leader Joseph Stalin created the famine, confiscating the harvest of Ukrainian peasants to force them to join collective farms.
Millions of people died as the Soviet government seized their property, closed off the borders and denied any outside aid.
Ms Semianiv, who was eight when the Holodomor hit her village, said: "I don't know how me and my mum survived because there was nothing to eat at all.
"It's always in me. It's really painful."