Grove Academy's head teacher fears for future over budget cuts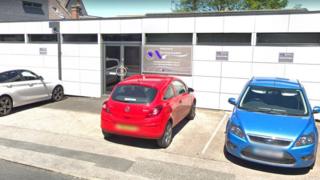 The head teacher of a school that caters for children who have been excluded from mainstream education says it faces closure over budget cuts.
The Grove Academy in Harrogate is one of five specialist pupil referral units in North Yorkshire.
John Warren said North Yorkshire County Council plans for £1.5m cuts across "high needs" provision would badly affect the school.
The council blamed "underfunding" from central government for planned cuts.
The academy, based in Grove Road in the town centre, is one of five units across the county that deal with students who have behavioural, emotional or social difficulties.
Latest news from across Yorkshire
As the county council looks at budget savings, one of its proposals is to change the funding of the units.
Council officials said they hoped the changes would save between £1.3m and £1.5m per year "to manage the pressure on our high needs budgets".
Mr Warren said: "Well, if we lost that money we wouldn't be here, we couldn't function.
"That is the core, the bulk of our funding, so without that money at the start of each financial year I have no money to pay for salaries and I have no money to pay for the building."
Councillor Patrick Mulligan, who is responsible for education and skills, said: "Our cost pressures are very grave due to chronic government high needs underfunding from the Department for Education.
"We are a responsible council that always tries to live within our budget."
The county council said it had an overall "high needs budget" of £44.2m but it faced an overspend of £5.5m and blamed "government underfunding".
Disputing the council's figures, a Department from Education spokesperson said: "We recognise that local authorities are facing cost pressures on high needs.
"This year, North Yorkshire County Council received £47.7 in high needs funding, this includes funding for their pupil referral units."