Man organised and filmed 'catastrophic' cockfights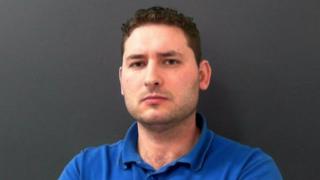 A man who organised and filmed "sickening and catastrophic" cockfights has been banned from keeping animals for 20 years.
William Welch was also jailed for 20 weeks by Harrogate magistrates after admitting animal cruelty offences.
The 29-year-old, from Darlington, recorded the fights on his phone. Police revealed graphic pictures which showed "catastrophic suffering".
The RSPCA said it amounted to "animal cruelty at the highest level".
A second man admitted a lesser animal cruelty charge.
North Yorkshire Police seized 27 birds during a search of premises at Skutterskelfe, near Stokesley, on 13 January, "some of which were bleeding from fresh cuts to the body and head".
Officers also found "bird feathers, and dried and fresh bloodstains on the floor and carpet".
Sgt Kevin Kelly said the footage recovered from Welch's phone was so "sickening" he decided not show it to other officers due to the "extreme graphic nature and scenes of catastrophic suffering to the animals".
Welch, of Levisham Lane, was also ordered to pay £2,000 costs when he was sentenced on Monday.
He pleaded guilty to causing an animal fight to take place, keeping animals for use in fighting and three counts of being present at an animal fight.
William Chates, 53, of Geneva Road, Darlington, pleaded guilty to being present at an animal fight. He was sentenced to carry out 120 hours of unpaid community work, handed a 10-year animal banning order and told to pay £170 costs.
Mr Kelly described Welch's imprisonment as a "landmark sentence", which came after a tip-off from an anonymous caller.
Insp Geoff Edmond, from the RSPCA, said: "This was serious and horrific animal cruelty at the highest level. To have to view these sickening videos is very distressing."